What is digging holes in my grass?
Something is digging holes in my grass. The pictures attached were made within a 3 foot radius. What ever this is is ruining my yard! I live in Hudson, NC. Help or ideas would be most appreciated!!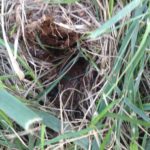 drtreelove
---
Certified GKH Gardening Expert
---
Answered on
October 14, 2018
It's hard to tell from the photos how large the holes are, and you don't state the diameter, but the following guide may be of help in determining which critter you have. I suspect ground squirrels or maybe voles if the holes are small.
---