Italian Stone Pine
Zone 78006
|
Anonymous
added on
September 22, 2018
|
Answered
My Italian Stone Pines are about five foot high after two years in the ground. Should I begin to shape them by removing the lower branches?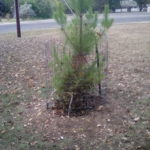 drtreelove
---
Certified GKH Gardening Expert
---
Answered on
September 23, 2018
Yes you can do that. In the photo tree, there is a lower area just above the soil grade with dense foliage, and then a space in the middle with patch of dead needles. Don't strip it up any higher than the whorl of branches just above the dead needles.
---